As the owners of New Directions Real Estate, we would like to convey our support towards the grant proposal submitted for the Sidie Hollow County Park Project. Our company was established in 2015 and has become one of the most well known real estate brokerages in the tri-county area. In this business, our agents get the opportunity to meet people from all regions who are relocating to Wisconsin. It's not uncommon after much research, that many people choose to make Vernon County their home.
There isn't much recreation that you can't find in our beloved Driftless region. We have some of the best fishing anywhere, beautiful hills and valleys, kayaking and canoeing, bike trails, and hiking. Unfortunately, there are no beaches to draw people in through swimming. This is one area that allows children to participate in exploring our world. Families are realizing more and more how important it is to make memories and to be outside enjoying nature.
With both of us having been fortunate to grow up in Vernon County, a place with so much opportunity for learning and growing, we were able to make many memories exploring at Sidie Hollow Park as children. We'd love for our own children, others in our area, and visitors to have memorable experiences there also.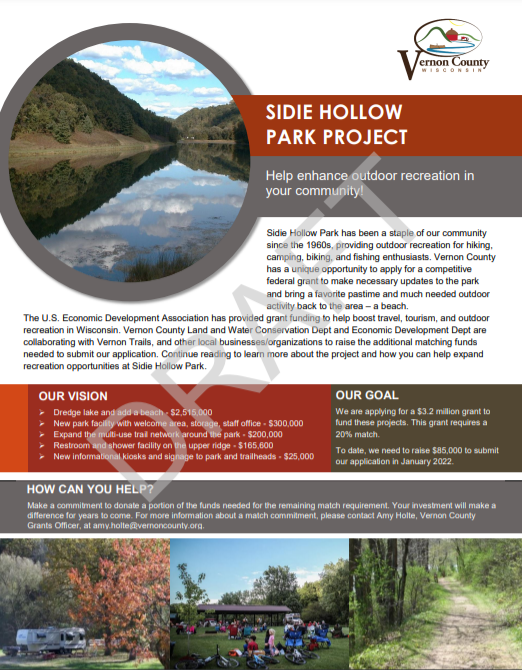 The Sidie Hollow Park Project will greatly enhance the appeal to move to Vernon County and will bring enjoyment to many families already in the area
.
Thank you for taking the time to consider this improvement!