One of my favorite things to do in my career as a Real Estate Broker and a small town business owner in Main Street USA is to answer questions. I cross paths with a lot of people in the community throughout most normal days, emails stream into my inbox on a pretty regular pace and my phone rings…a lot, for which I am very grateful! Most of these conversations start with exchanging pleasantries and then quickly dive deeper with a question that gets me excited to answer. The truth is this…I'm a thinker, maybe even a 'philosopher' at heart. Some would accuse me of being a dreamer, but I love to bust my tail with good old fashioned hard work in the constant pursuit of learning something new every day.
With that being said, one thing I do not claim to be is an economist! However, the past few weeks have been interesting in our country to say the least and we ARE learning new things every day. So with the aforementioned goal of learning in mind, we could certainly claim success in that, right?! Well, I would be remiss to skip over the most important part of learning something new. You've got to remember what you have already learned!! We can learn from a lot of things including, but certainly not limited to; personal experience, mistakes, conventional wisdom, historical fact, the experience and mistakes of others, trial and error, failure and success, right? But all too often, we fail to discover what we already know. History tends to repeat itself and no matter what your question is, it's most likely not the first time it's been asked before. In fact, I'm going to suggest that there's a good likelihood you might already know the answer if you carefully apply conventional wisdom and common sense.
At this point, I can hear your question loud and clear: "What does all of this have to do with Real Estate??" I'm so glad you asked!!
The reason I felt that this short story was worth writing is this; as a Real Estate broker, THE most common question that I am asked is "How is the Real Estate market..?" You can fill in the blanks at the end of the sentence with a number of things, but most recently it is "How is the Real Estate market responding to COVID-19?". Seems like a legitimate question, don't you think? Well, I would suggest that it depends on who you ask!
Look at this chart that shows buyer activity in the State of Wisconsin since the beginning of the year. As of the second week of March, this year was outpacing 2019 by a considerable margin in comparison to January 1st respectively. Then, along came the 'rain cloud' of COVID-19 that now has most people looking out the front window waiting for the rain to stop so they can go back out and play. However, what this chart doesn't show is that the climate is still a sellers market and buyers are still very anxious to lock in those low rates, so the metrics that matter most to sellers (Days on Market and Sale Price vs. List Price) have not changed much at all!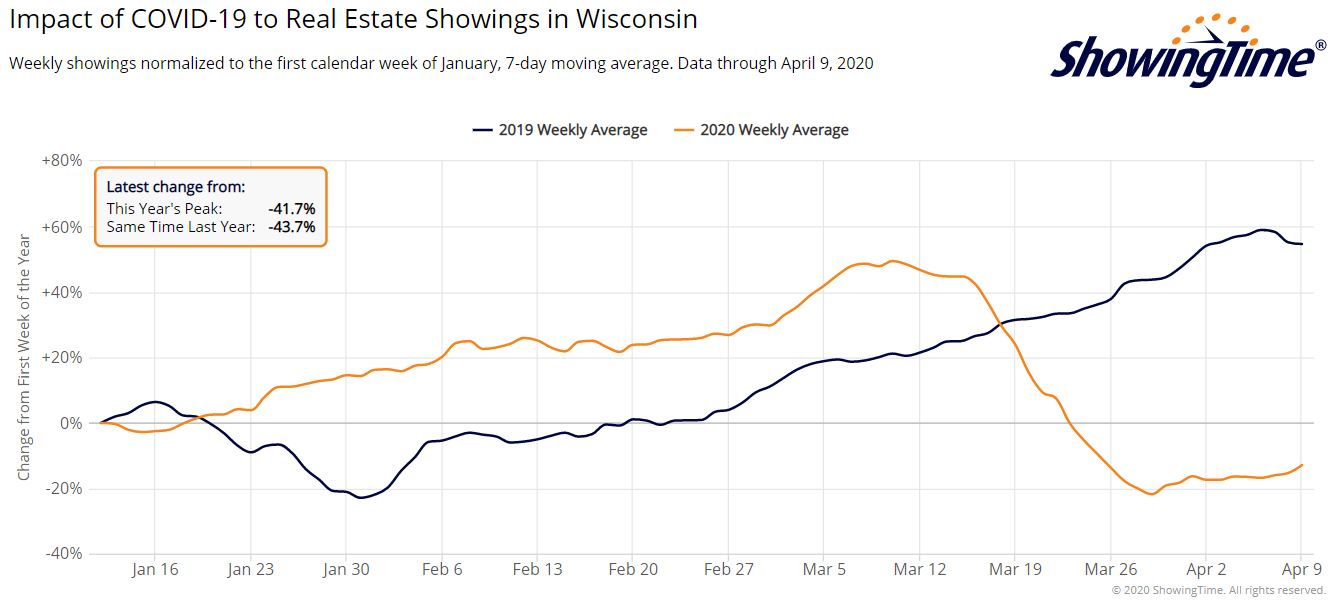 The meteorologist on ABC says it's going to rain, CBS says it's most likely to be 'partly sunny', and NBC says it will be 'mostly cloudy'…then you flip over to another channel and they'll tell you that there's a high pressure system that could completely change the forecast by tomorrow morning, so be sure to tune in again after breakfast. They each have a different perspective that might make you feel better or worse about the forecast. The same is true in Real Estate!
I've talked to quite a few brokers and agents in the past few weeks and I've heard the best and the worst. Some buyers are scared to dip their toe in the murky water, while others are jumping off the high dive without even flinching to take advantage of 50 year low mortgage rates! Some sellers are hesitant to list right now because they're worried about the nervous buyers. At the same time, most of the sellers who have listed recently in our market have quickly accepted great offers from those aggressive buyers who are enjoying the extra space in the pool.
Your decision to go to fishing tomorrow just might be altered by which weather forecast you hear, but many fishermen will tell you that the best fishing happens in the rain! Either way, the easiest economic principle is still proving itself to be true. Supply and Demand will dictate how the market responds. How you carry out your plans to buy or sell might be determined best with the help of the opinion and advice of a professional Real Estate expert who is answering those phone calls and emails everyday.
So, what is my advice to the average client right now under the 'cloud' of COVID-19? Follow your heart and invest in your future. If it's time to buy or sell under a rain cloud, grab your umbrella and call us! We'll help you figure it out before it stops raining! If you're worried about the market, just make a decision that you're comfortable with and prepare yourself with a raincoat and a bottle of sunscreen.
All of this is to say that most Real Estate decisions are made to secure long term investments and history is on your side. Almost any historical record you can find will show that Real Estate is one of the safest investments that you can make. There has always been ups and downs in this business and that will not likely change…but if you stop for a minute and think about it, you probably already knew that 😉