You might be surprised to learn that living in your home might be putting you at risk for lung cancer. A common response is "We don't allow smoking in our home". Well, according to the American Lung Association, that may not matter if you're living with elevated levels of Radon in your home. Radon gas is the second leading cause of lung cancer in the United States…responsible for an estimated 21,000 deaths each year in the United States. People who have never smoked make up approximately 14% of the radon-related lung cancer deaths each year. Exposure to radon causes no immediate symptoms, but the long-term threat of lung cancer is significant to everyone. The health hazard comes from the radioactive particles that are emitted as radon decays. Those particles can be inhaled into the lung and bombard your cells with dangerous, cancer-causing radiation. Smoking and radon exposure can separately increase the risk of lung cancer.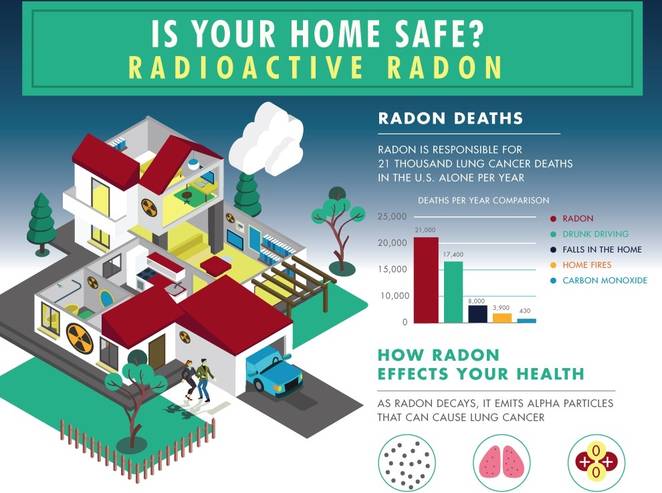 Radon is a colorless, tasteless and odorless gas that is emitted from the ground and enters a home through cracks in walls, basement floors, foundations and other openings. Because radon comes from rock and soil, it can be found anywhere. Exposure to limited concentrations, like those found outdoors, is impossible to avoid. However, Radon gas occurs naturally and can build up to dangerous levels inside homes, schools and other buildings. As it decays, it releases radioactive byproducts that are inhaled and can cause lung cancer.
The most important source of radon gas indoors is the soil and rock surrounding the building. By sealing your home to keep radon from getting through cracks and openings, you can significantly reduce your home's radon levels. You may need to install a separate radon ventilation system in your home to remove high levels. Less frequently, radon may enter buildings from radon-contaminated drinking water used in bathroom showers and sprays, though this occurs only when the water comes from a private well. More recently, concerns have been raised about the radon released indoors from granite countertops or tiles. However, these sources are rarely a problem by themselves.
This is an issue that has gained a lot of attention over the past couple of years in Real Estate and the National Association of REALTORS has taken notice. I can definitely say that most of my clients prior to this year did not even consider a Radon test…now the majority of my buyers are wanting a radon test completed simply due to their increased awareness. Many states have mandated new forms to raise buyer awareness and encouraging testing during the purchase process. However, Wisconsin is still a little behind the curve on this from a consumer protection standpoint. There is a couple more hoops (and more paperwork of course) required and the seller still has to consent to testing here
In my opinion…
Every home should be tested for radon. Radon has been found at elevated levels in homes in every state. The U.S. Environmental Protection Agency (EPA) estimates that nearly one out of every fifteen homes in the United States has unsafe indoor radon levels. The Department of Health Services cites that 5 – 10% of all homes would test above the US EPA guideline of 4 pCi/L in Wisconsin. However, some have reported that more than 50% of homes in Vernon County could be at risk.
Your home can have elevated levels of radon even if your neighbor's home does not. Testing is the only way to determine if you have a problem. Radon testing is easy and inexpensive and it could save your life. Thousands of lung cancer deaths could be avoided each year if homes with elevated radon underwent changes to reduce radon pollution. If you have any questions or concerns that I might be able to answer, please don't hesitate to contact me anytime at your convenience.